By Solomon Araneta
This is part of a series highlighting the people and activity of our regional branches. The series will begin with the Regional Representatives, but will continue with features on scholars, events, and other activities happening in that area.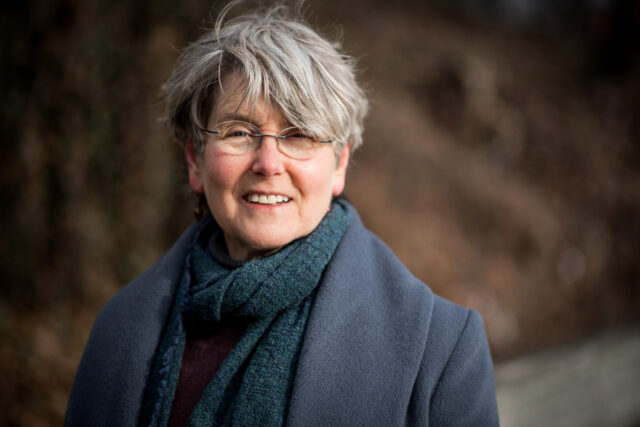 Dr. Nathalie F. Anderson is the President of the Southern Regional American Conference for Irish Studies. She is also a Professor of English Literature at Swarthmore College, where she teaches Victorian poetry, Modern British and American poetry, Contemporary Women's poetry, and Contemporary Irish Poetry, as well as other workshops, while also directing the Creative Writing program. She served previously as the Arts Representative for ACIS, and has also organized poetry readings at ACIS conferences for the last 20 years. In 2019, she edited an anthology of 44 poets who participated in those readings titled Open-Eyed, Full-Throated: An Anthology of American/Irish Poets, published by Arlen House Press in Ireland.
Dr. Anderson always enjoyed WB Yeats, although she wasn't able to study Irish History or Irish Literature until she started working on her PhD dissertation on Ted Hughes, where she "happened to read a retrospective review of Seamus Heaney's poetry in The New York Review of Books" which she thought would pair well with Hughes' work, unaware that the two were close friends personally. Her teaching career then took her to Swarthmore College, where she worked closely with librarian Michael Durkan who was "a central member of ACIS, and friends with —it seemed— the entire pantheon of living Irish writers." This was the true start of her education in Irish Studies, as she wrote introductions for writers that were being brought to Swarthmore's campus and extend the knowledge she'd "gleaned from reading and contextualizing Seamus Heaney's work."
Dr. Anderson's first ACIS event was the June 1987 conference in Dublin, and while she hadn't been a member prior to this, Michael Durkan urged her to go anyway. This was her first time in Ireland, despite her family being Irish. Her bus tour of the Ring of Kerry was met with walls of rain, and she found that "everything I did as a first-time tourist was unlucky in that way, and yet everything was also fascinating." It was at this conference the she met Marie Heaney, critic Edna Longley, poet and musician Ciaran Carson, and founding editor of Gallery Press, Peter Fallon. "That opportunity to meet crucial thinkers and writers from Ireland continues to be the most rewarding thing about ACIS for me, but I also learn so much from hearing scholars explore aspects of Irish history and literature that I haven't yet encountered, or deepen aspects I already know well."
Speaking of ACIS, Dr. Anderson mentions that "[t]his is the academic group where I feel most at home…" Unfortunately, the COVID-19 pandemic has done damage to this home as well, as the Southern Regional meetings were planned to be folded into the National Meetings in Houston this year, while also pushing the Southern Regional Meeting planned for November 2020 to March 2021. She said that "[w]e anticipate that we'll need to structure our conference so as to make Zoom attendance possible, and we're just beginning to consider those logistics." On the topic of the future though, she expresses hope, noting a conference at Lenoir Rhyne planned by Rand Brandes that she hopes will "entice Irish Studies people from all over the United States (and even the world) to join us in March 2021 in Hickory, North Carolina.