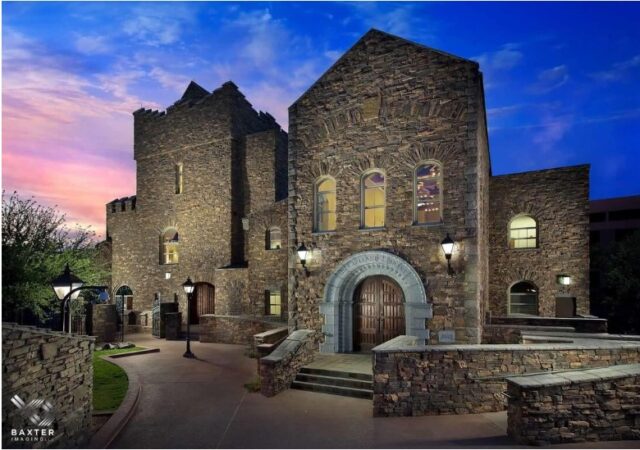 As we enter a new era as a worldwide community learning to live with endemicity and global uncertainty, we are pleased to announce that the Western Regional meeting of the American Conference for Irish Studies will be held at The Irish Cultural Center and McClelland Library October 13-15, 2022. This space in the heart of downtown Phoenix includes the McClelland Library patterned after a twelfth-century Norman Castle, and the Great Hall featuring a fireplace built from County Clare stones.
The theme of the conference is Re-Emergence both in our current Irish Studies context and the numerous emergences throughout Irish history and literary history. As we tentatively re-emerge from lock-downs, we celebrate 100 years since the Formation of the Free State and since the publication of Ulysses. Our global community is also experiencing a rising consciousness around race, identity, and colonization and it emerges in exciting new
scholarship.
The conference committee welcomes paper, panel and roundtable proposals that address any aspect of Irish Studies, including literary, historical, political, socio-economic, cultural, and visual arts. We also welcome creative presentations in dramatic or literary form, i.e. poetry readings, monologues, or group performances.
Possible topics include:
The post-pandemic world in Ireland
Ireland after the Emergency – becoming an international player
Irish emergence from colonial rule in 1922
Emergence of Northern Ireland
Re-emerging from 1798 and/or the Act of Union
Post-crash / Post-Tiger emergences
Irish immigrants in the American West
Ecocritical and Environmental issues in Irish Studies</>
Revolutionary Ireland
Library and Archival collections
We look forward to exploring these topics and more in this multidisciplinary event. The deadline for submissions is June 25, 2022. All conference presenters and attendees must be current paid members of ACIS by the conference date.

Submission Guidelines: Individual papers and panel submissions (3-4 participants) are welcomed, as are proposals for presentations in non-traditional formats such as poetry, monologues, roundtables, discussion groups, or seminars. Abstracts should be 250-300 words in length and should include a brief (100-word) bio of the presenter. Proposals should be submitted via the link to the right. The deadline for abstracts has been extended to July 31, 2022.