Thresholds: ACIS Mid-Atlantic and New England Regional Conference at Saint Joseph's University
October 14-15, 2022, Philadelphia
We are pleased to announce the 2022 Mid-Atlantic and New England regional meeting of the American Conference for Irish Studies hosted by Saint Joseph's University in Philadelphia, PA.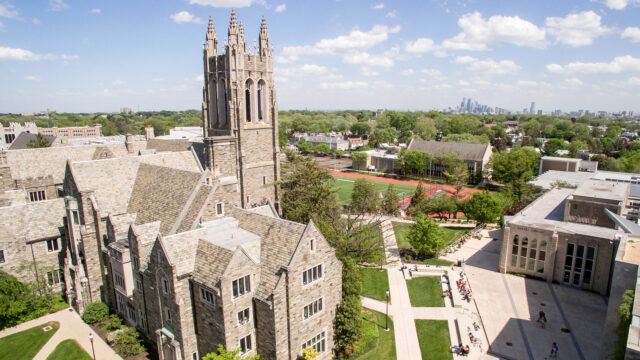 Yet another year in the Decade of Centenaries, 2022 invites us to consider thresholds that have been crossed in the past whilst contemporaneously reminding us of our own place on the threshold of something new in this third year of a worldwide pandemic. A hundred years ago, the publication of Ulysses and the formation of the Free State were starting points and catalysts for cultural and political change, but also for boundless creative and scholarly energy. As such we welcome proposals that address temporal, literary, ecological, cultural and political thresholds in Irish literature, history and culture, as well as ones that consider the field of Irish Studies in its current contexts, poised at new thresholds and unexplored avenues.
We are especially interested in proposals that consider the following topics:
• New thresholds and interdisciplinary approaches in Irish Studies
• Intersectionality and Irish culture: race, gender, class, sexuality
• Social Justice and activist politics
• Thresholds of change in feminism and reproductive justice
• Thresholds of public and private life: religion, the state and institutionalization
• Revolutionary Ireland
• Memory, History, and thresholds of the past
• Ecocritical and environmental humanities in the context of Irish Studies
• Disability Studies and Irish Studies
• Crossing the thresholds of contemporary: The Irish Tiger and the Irish Phoenix
• LGBTQIA+ activisms in Ireland
The deadline for submissions is August 26, 2022. The conference committee welcomes paper, panel and roundtable proposals that address any aspect of Irish Studies, including literary, historical, political, socio-economic, cultural, and visual arts. Abstracts for individual presentations should be 250-300 words in length and should include a brief (100-word) bio of the presenter; panel proposals should be 300-500 words and need to include short bios for all members of the panel. Use the link to the right to submit. All conference presenters and attendees must be current paid members of ACIS by the conference date.
Featured Speakers
Keynote: "Ulysses | Women | Reading | Writing" Dr. Clare Hutton, Loughborough University, UK.
Clare Hutton is Reader in English and Digital Humanities at Loughborough University in the UK.  She is the author of Serial Encounters: Ulysses and the Little Review (OUP, 2019, now out in paperback), and edited The Irish Book in English, 1891-2000 (OUP, 2011), and various articles on Irish literature.  She is the third of six children, has three of her own, and did her degrees in London (BA), Trinity College Dublin (MPhil) and Oxford (DPhil).  She was curator of Women and the Making of Ulysses exhibition at the Harry Ransom Center, University of Texas at Austin.
Plenary: "Stop the Clocks: Reading Global Ireland beyond Irish Standard Time" Dr. Darragh Gannon, University College Dublin & Georgetown.
Darragh Gannon is Head of Irish Studies at University College Dublin and Vice President of the Global Irish Diaspora Congress. As a 2022-23 Fulbright Irish Scholar, Dr. Gannon will be teaching Irish History at Georgetown University. He has published widely on the Irish diaspora and the Irish Revolution, including Proclaiming a Republic: Ireland, 1916 and the National Collection (Irish Academic Press, 2016), Ireland 1922: Independence, Partition, Civil War, with Fearghal McGarry (Royal Irish Academy, 2021), and Conflict, Diaspora, and Empire: Irish Nationalism in Great Britain, 1912-1922 (Cambridge University Press, forthcoming in 2022).
Hotel accommodations
A room block has been reserved at the Marriott Courtyard, 4100 Presidential Boulevard Philadelphia, Pennsylvania 19131 at a rate of $169/night. Parking is available for an additional $14/night. Rooms must be booked by September 25, 2022 to secure that rate.
Located in Philadelphia, PA, Saint Joseph's University is accessible by car, bus or train – Amtrak, SEPTA, PATCO – and is conveniently close to the Philadelphia International Airport.
For questions, please contact Kersti Tarien Powell at kpowell@sju.edu.